Closed Church Facilities, but NOT Church Ministry!
Update September 1, 2020


Under continued guidance and instruction from the State and our Church Leadership (Bishop Carcaño) during the COVID-19 pandemic, the church facilities are closed for normal business. Please know that this is all for public safety during this health crisis. If you have any church business, please call the church office at 966-3419 or email the church office at
mariposaumc@sti.net
. You may also see the information below on how to worship with us online. Thank you for your consideration and understanding during this time and we are praying for the day when we will be able to worship in-person.
---
How to Worship With Us Online
Currently we are meeting virtually for Sunday Morning Worship. The worship video is uploaded to YouTube and available at 12:00 noon on Saturdays. The link is also sent out via email with the Order of Worship and message manuscript and can also be found on our
Messages
page.
Once we relaunch in-person Sunday Morning Worship, we will not be broadcasting "live." The services will be recorded so you may view the service at a later time. More information about service recordings will be availa-ble once we are able to meet in-person.
---
December Communion Offering
Many of you will remember the Heifer International Marketplace that Gussie and the children held through the years in our Joe Kidd Hall around Thanksgiving time. They had tables to represent the goats, chicks and ducks, heifers, and more, and our church gave generously to the cause. Back in the day, Len and Grace Bryant raised goats, first in Midpines and later on 49 South, and some of those goats went to Heifer International to provide milk for families in faraway places.
During the COVID pandemic, our church's outreach efforts have gone to missions within our community and to UMCOR (United Methodist Committee on Relief), as well as to disaster relief in our conference.
To end our year, we are having a virtual fundraiser for Heifer International. Those of you who receive the Spire by email will receive a gift order form with this Spire edition that enables you to choose your gift that will benefit a family in Central America, Africa or Asia. It may be an animal or a water project or biogas stoves for women. If you don't have email, you may pick up a gift order form at the church office.
Because this is a church fundraiser, we ask you to send your payment to the church (through your MUMC account) or by mail to MUMC, P.O. Box 248, Mariposa, CA 95338, along with your gift order form showing your choice of gift. Those who donate online to the church may contact Beth Tomsick at jbtoms@sti.net to let her know their gift choice.
Thank you for your generous giving this year to many good causes. This stewardship has allowed us to be disciples while sheltering in place!
---
Worship News
We are blessed for those who have experience with video recording by phone to be able to submit liturgy and/or music. Working with them in video production of worship, we also appreciate videographers Kerri Gibbons, and Bill Fiske. Thank you so much to Steve Smallcombe for his video-editing and updating our equipment (software and hardware) in the on-going improving of our YouTube worship videos.
Besides the musical talents of Beth Tomsick, Marian Folker and Susan Wilson in providing congregation and introduction music, we are blessed with our 'regular' musicians who have provided special music and musical offerings. So far, these have included: Monika and Kirk Moulin, Bill and Debbie Tucker, Kathy Sutherland, Ralph Seely, Andy Crandall, Mahal Buenafe, Marcia Cepe and Pastor Mark. We are also blessed to have both the Chimes Choir and Open Hearts Blue Grass Band in regular circulation to provide music.
The opportunity to share your (recorded) musical talent for worship is welcomed.
With our County in the 'Yellow Tier' of the Governor's Blueprint, and upon completion of all preparations for getting back to in-person worship, you will be informed promptly of this imminent change.
---
---
Interdenominational Laity-Led Worship
Smoke or clear, the Sunday noontime interdenominational Laity-led worship service continues at Idle Wheels. Inspired as a result of the current policy of no in-person worship in at Mariposa UMC and other churches, a group gathers on Breeze Way for a brief worship time of prayer concluding with the Lord's Prayer. Physical distancing precautions are taken. (Note: Service is about 10-15 minutes)
---
How to Give During the Shutdown
We welcome and truly appreciate your gifts, however you choose to get them to the church. You can mail your check to the church at P.O. Box 248, Mariposa, CA 95338. Online Giving is a convenient option, via either the church's website or the GivePlus mobile app. If you have any questions about how to make an online gift, or set up a recurring online gift, please feel free to contact me at 209-742-6131 or glennsutherland@sti.net.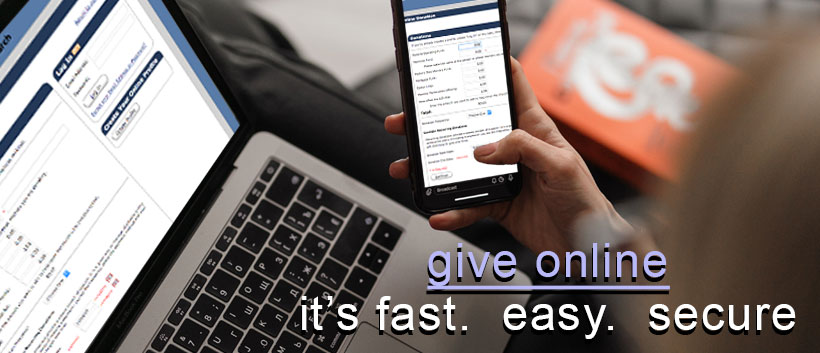 ---
Keeping Updated
The Church Office is continually updating its database.
Please contact the Church Office for any updates or changes to your contact information so we can stay in touch and have the correct information for our database and records. Thank you.

---
Conference Disaster Response Funds
Have you been considering more ways to help those impacted by the COVID-19 Pandemic? Determining the best way to responsibly give to legitimate agencies or persons can be a challenge.

Thankfully, we have agencies/specialized ministries in our own Methodist system. Please join others in financially contributing to the California-Nevada Conference COVID-19 Pandemic Fund so that critical life-saving work can continue. Please give your help gifts to Mariposa UMC with a note or write in the memo line of your check letting us you would like your gift to go towards the Pandemic Fund.

---
RECURRING EVENTS

Weekly
Worship Service, Sundays, 9:30 AM
Coffee Hour, Sundays after Worship, 10:30 AM
Sunday Lunch Bunch, 11:15 AM
UM Youth Fellowship, Monday, 3:30 PM (FH)
Boy Scout Troop 94, Monday, 6-7:30 PM (KH)
Chimes Practice, Thursday, 5:30 PM (Sanctuary)
TGIF Club, Friday, 2:30-5:15 PM (during school year)

Monthly
UMM Breakfast, 1st Saurday., 8 AM
Fix-It Team, 1st Saturday, 9:30 AM
Worship Team Meeting, 1st Wednesday, 4:15 PM
The Feast, 4th Wednesday, 5:30 PM
Homebound Ministry, 3rd Thursday, 1 PM
Faithful Readers, 3rd Thursday, 6:30 PM


---
Dream Weavers!
Visit our Dream Weavers web page for information and lots of resources.
---
UPCOMING MEETINGS
United Methodist Men
The next UMM breakfast meeting will be held Saturday, December 5 at 8:00 am at Miner's Roadhouse, followed by a Fix-it team meeting at the church at 9:30 am.
For questions, contact John Scott at 966-4328
Methodist Conferences Continue
Our Annual Charge* Conference via ZOOM meeting will be held Saturday, December 12 at 2:00 pm, with District Superintendent Debra Brady presiding. She will first meet with the SPRC at 1:30 pm. This official business meeting of the Church will include a 'Wesley House Meeting' reflection time followed by the business. More details as we get closer to this date will follow.

(*Portions of this Conference will be for members only).

WORSHIP COMMITTEE MEETING
The next Worship Committee Meeting will be held on Wednesday, December 2, 2020 at 4:30 pm via Zoom. All are invited. Please contact Christina Rouse (209-626-6043) for the Zoom link if you would like to join.
---
THIS AND THAT
Volunteers Needed!
Our day to ring the bells for the annual Salvation Army kettle fund-raising campaign is Saturday, December 5 at the entrance to Pioneer Market. Shifts are 2 hours from 10 am to 6 pm, with two volunteers each shift. We are still in need of more volunteers. Masks and social distancing will be in place. If you would like to join in this festive and worthwhile event, please contact Susan Worcester at (559) 676-6201. All bell ringers are asked to view a short (5-minute) YouTube video - 'Salvation Army Bell Ringer Training - Christmas 2020'.
As you may know, 90% of donations received in Mariposa are made available to those in Mariposa who are in need of emergency food, small propane tanks, clothing, gas vouchers or YARTs bus passes (limited to doctor visits, court appointments and job interviews), hotel stays and unexpected emergencies on a case-by-case basis. Anyone in need of assistance should contact our Field Representative, Mark Ford at (559) 458-5505.

CHARGE CONFERENCE - December 12, 2020
Our Annual Charge* Conference via ZOOM will be on Saturday, December 12 at 2:00 pm, with District Superintendent Debra Brady presiding. She will meet with the SPRC at 1:30 pm. This official business meeting of the Church will include a 'Wesley House Meeting' reflection time, followed by the business. Key agenda items will include three motions for voting: Membership, Elections/Nominations and Pastor's Compensation.
(*Portions of this Conference will be for members only).
Updates as necessary will be through the weekly Kairos newsletter.

KEEPING UPDATED
With the regularity of sending out the Worship Links via email, while also wanting to keep in touch with persons using physical mail, the office is continually updating its database. Please contact the office for any updates and changes that we might stay in touch. Thank you.

The Upper Room
The Upper Room daily devotions are also available online at https://www.upperroom.org/devotionals.

Prayer Flags
Looking for something to do during the pandemic? From the garden, look up at the covered patio area peeking through the maple tree. We hope you enjoy the prayer flags! If you would like to add your prayers, please contact the church office to receive a "blank" you can use for your prayer. The office will also have photographs of other prayer flags you can use for inspiration. The prayers will be out in the weather year-round so please keep that in mind. It is perfectly fine for our prayers to experience the seasons. Members of the wonderful FIX-IT team will add your prayer flags at appropriate intervals to our "collection". Your prayer flags do not need to be elaborate. Questions? Call or email Christina Rouse at mariposaquilter@gmail.com or 209-626-6043. Have fun with this and cast your prayers to God, the wind, and the community.

Pioneer Market Receipts
Please remember to save your receipts; these benefit our Youth Programs. You may drop them in the church drop box facing Bullion Street, or mail with your offering. If you total your receipts, please only total the sub-total amounts (pre-tax).
---
Join Pastor Mark in reading the Bible from beginning to end.
Visit our web page for details and this month's readings.
---
December Birthdays
8 - Lori Vegely
14 - Bill Tucker
15 - Bridgit Fithian
16 - Patricia Oliver
28 - Ed Vegely
December Anniversaries
4 - Bill & Debbie Tucker
20 - Tom & Judy Gibbons & Sherman & Carole Nelson
21 - Ed & Juanita Vegely

---
HELP NEEDED

Chimes Help Needed!
Suggestions wanted for hymns or songs to chime. Any favorites?
Call Janet at 966-4454 evenings, or email her at thelangleyco@gmail.com

We need help with the PowerPoint presentations If you have experience with creating PowerPoint presentations, that's great! However, even if you don't but are comfortable with a computer, we can use your help. Talk to Pastor Mark Buenafe or Christina Hibert.

The Worship Committee
is looking for a creative, detail orientated person to write short blurbs to encourage the community to attend our AWESOME services, particularly special services. The person needs to be able to meet the deadlines of the Mariposa Gazette and other publications. The right candidate will be compensated with PRAISE! Please contact Christina Hibert if you are interested.

Manna House needs our help!
Manna House has assigned each of their supporting churches one of the staple food items they always need. We have been asked to focus on cans of tuna. Please bring cans of tuna to church on Communion Sunday each month.