Join us for Worship.
Our Pastor,
Rev. Mark Buenafe
Sunday Service
9:30 a.m.
Coffee Hour
Follows worship service each Sunday
Child Care available for infants through age 7
Dream Weavers!
Visit our
Dream Weavers
web page for information and lots of resources.
Church Office Closed
The church office will be temporarily closed to the public until otherwise instructed. The Joe Kidd lobby will be open during normal office hours.
For your convenience, hand sanitizer will be near the lobby doors.
If you have any church business, please email the church office at
mariposaumc@sti.net
or call the church office at 966-3419.
Thank you for your consideration and understanding in helping us stay healthy.
---
How to Give During the Shutdown
We welcome and truly appreciate your gifts, however you choose to get them to the church. You can mail your check to the church at P.O. Box 248, Mariposa, CA 95338.
Online Giving
is a convenient option, via either the church's website or the GivePlus mobile app. If you have any questions about how to make an online gift, or set up a recurring online gift, please feel free to contact me at 209-742-6131 or
glennsutherland@sti.net
.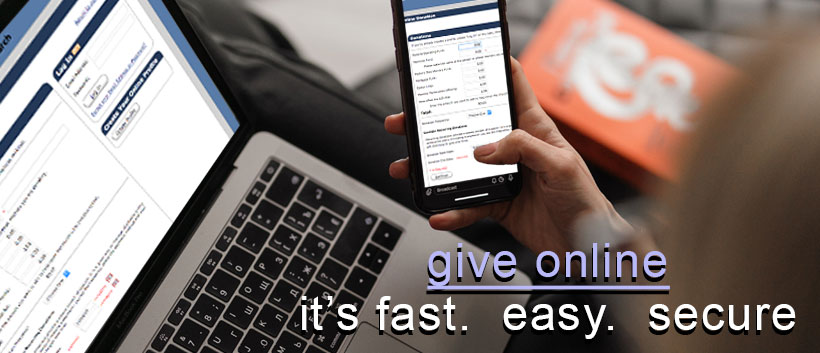 ---
How to find us online
Morning prayers uploaded Monday through Friday on
YouTube
. Link to video sent out via email and posted on the Mariposa UMC
Facebook
page.
Sunday worship video uploaded to
YouTube
and available at 6:30 AM on Sundays. Link sent out via email with order of worship and sermon manuscript. Link posted to Mariposa UMC
Facebook
page. Link and documents also found on this website mariposaumc.org on the
Coronavirus
page.
---
FINANCIAL PEACE UNIVERSITY IS HERE
---
UPCOMING EVENTS
Flocks to Meet
Pastor Mark is eager to meet the Flocks. Please look at your calendars to inform your Shepherds with possible dates and times. Flocks 1, 8 and 9 already have their gatherings scheduled.
Community Shredding Event
SATURDAY, AUGUST 8th FROM 10:00am -1:00pm in the parking lot behind the church.
SUGGESTED $7 DONATION PER STANDARD FILE SIZE BOX
Proceeds benefit our Children and Youth Programs.
What to shred: Old time sheets, bank statements, pay stubs, checkbooks, legal files, utility bills, credit card statements, invoices, investment records, medical information, etc.
---
UPCOMING MEETINGS
WORSHIP COMMITTEE MEETING
The next meeting of the Worship Committee will be on August 5 at 4:15 pm via Zoom. All are welcome. If you would like to attend, please let Christina Rouse know and she will send you a Zoom invite. Christina can be reached at mariposaquilter@gmail.com or 209-626-6043.
---
RECURRING EVENTS
Weekly
Worship Service, Sundays, 9:30 AM
Coffee Hour, Sundays after Worship, 10:30 AM
Sunday Lunch Bunch, 11:15 AM
UM Youth Fellowship, Monday, 3:30 PM (FH)
Boy Scout Troop 94, Monday, 6-7:30 PM (KH)
Chimes Practice, Thursday, 5:30 PM (Sanctuary)
TGIF Club, Friday, 2:30-5:15 PM (during school year)
Monthly
UMM Breakfast, 1st Saurday., 8 AM
Fix-It Team, 1st Saturday, 9:30 AM
Worship Team Meeting, 1st Wednesday, 4:15 PM
The Feast, 4th Wednesday, 5:30 PM
Homebound Ministry, 3rd Thursday, 1 PM
Faithful Readers, 3rd Thursday, 6:30 PM
---
LET'S CELEBRATE OUR GRADUATES!
College
Christopher Allen
Grandson of Cynthia McCarthy - Graduating from APSU (Austin Peay State University) Clarksville, TN with a Bachelor's Degree in biology
-Future Plans – Continuing education in medicine
Anna Medema
Daughter of Tom and Cindy Medema - Graduating from College of Wooster in Ohio with a political sciences major and an environmental studies minor
-Future Plans – Plans to work in Washington D.C. in environmental policy before pursuing a further degree
Marissa Watters
Niece of Pastor Allison - Graduating from University of Incarnate Word with a degree in sports management
-Future Plans – She will pursue her MBA at University of Incarnate Word
High School
Pavel Breish
Graduating as a valedictorian from California Virtual Academy, Fresno
-Future Plans – Attend Fresno State University computer science
Naomi Goulet
Daughter of Dan and Stephanie Goulet - Graduating from Locust Grove High School in Oklahoma
-Future Plans – Attend CSEA online college in the fall
Graciela Tafoya
Daughter of Gonzalo and Dana Tafoya - Graduating from Mariposa County High School
-Future Plans – Attend community college with plans to major in photography with a minor in environmental studies
Middle School
Tabitha Barger
Granddaughter of Greg and Loretta Milne - Graduating from 8th grade at La Mesa Academy of Arts
Future Plans – Attend High School
Lindsey McCarthy
Granddaughter of Patrick McCarthy and Cynthia McCarthy - Graduating from Broadway Middle School in Seaside, OR
-Future Plans – Attend Seaside High School
Clara Statkus
Granddaughter of Tom and Judy Gibbons and niece of Kerri Gibbons - Graduating from Preston Middle School
-Future Plans – Attend Fossil Ridge High School
Evelyn Tafoya
Daughter of Gonzalo and Dana Tafoya - Graduating from 8th grade at Mariposa Elementary School
-Future Plans – Attend Mariposa County High School
---
Join Pastor Mark in reading the Bible from beginning to end.
Visit our
web page
for details and this month's readings.
---
UPCOMING EVENTS & MEETINGS & CALENDAR HIGHLIGHTS
SCHEDULED EVENTS
5. June 6, 2020 - Dawn Lake Old Fashioned Picnic (Chris Todd, Peggy Lovegreen, Shel Ball, Gussie Kidd)
6. June 27, 2020 - Movie Matinee (Smallcombes)
7. July 10, 2020 - Bunco (Barb Schouten, Pastor Mark Buenafe)
8. July 31, 2020 - Role Playing Games (Adam Richard) SERVICES BY APPOINTMENT
---
MUMC Fun and Fellowship Fundraiser
GOALS OF FUN AND FELLOWSHIP:
1. To raise funds for the ministries of the church.
2. To raise money from attendees both inside and outside the church.
3. To enjoy fellowship with people both inside and outside the church.
4. To have fun doing it!
Upcoming Fun & Fellowship Events Tickets are still available for these events

Please contact Kathy or Glenn Sutherland for more information or to purchase tickets.
---
July Birthdays
1 - Cindy Fiester
4 - Ruth Davis
9 - Ralph Seely
10 - Joy Kagawa
14 - Nick Statkus
20 - Alexandria Cann
20 - Asher Vienna
26 - Ben Cann
28 - Cyndi McCarthy
July Anniversaries
3 - Bruce & Lori Vegely
4 - Ted & Janet Langley
22 - Joanie & Kevin Bryant
23 - Earl & Charlotte Heitzmann


August Birthdays

3 - Lori Tierney
5 - Erin (Gibbons) Statkus
7 - Beth Tomsick
8 - Charlotte Heitzmann
8 - Loretta Hudson
10 - Erin Fiester
15 - Yvonne McKnight
16 - Margaret Hibert
22 - Beverly Pinkerton
23 - Rosann Burley
25 - Janet Langley
29 - Rachel Bondshu
31 - Flora Burlingame
31 - Chris Butler


August Anniversaries

3 - Clifton & Marcele Price
20 - Cameron & Rosann Burley
28 - Frank & Delores Bartholomew
---
HELP WANTED
We need help with the PowerPoint presentations If you have experience with creating PowerPoint presentations, that's great! However, even if you don't but are comfortable with a computer, we can use your help. Talk to Pastor Mark Buenafe or Christina Hibert.
The Worship Committee is looking for a creative, detail orientated person to write short blurbs to encourage the community to attend our AWESOME services, particularly special services. The person needs to be able to meet the deadlines of the Mariposa Gazette and other publications. The right candidate will be compensated with PRAISE! Please contact Christina Hibert if you are interested.
---
Manna House needs our help!

Manna House has assigned each of their supporting churches one of the staple food items they always need. We have been asked to focus on cans of tuna. Please bring cans of tuna to church on Communion Sunday each month.
---
THANK YOU!
Dear Mariposa United Methodist Church,
Thank you for your contribution to Manna House in the amount of $125. It helps provide food for the needy of our community.
With much appreciation,
Mariposa Manna House